Thomas J. Skola, Esq. Memorial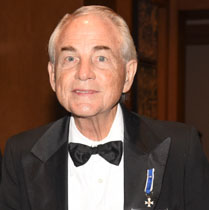 It is with profound sadness that the Brazilian-American Chamber of Commerce of Florida (BACCF) communicates the passing of our founding member Thomas J. Skola, Esq.
Tom's association with the BACCF stretches back 40 years. It was his early recognition of the rapid growth and potential of Brazilian commerce in South Florida dating to the 1970s that led him to establish the BACCF in 1981. Prior to his founding of the Chamber, Tom led an international business and legal advisory firm focused on Latin America, and Brazil in particular. While residing in Brazil from 1977 through 1981, his activities centered on international business and banking transactions. He was a valued participant in numerous business ventures involving Europe, Central America and the Caribbean. Tom was among the first group of attorneys to be Board Certified in International Law by the Florida Bar in 1999. He was also awarded the Ordem do Rio Branco in 1996, the highest civilian award in Brazil. It was these experiences, together with his connections with the local business community that gave Tom the unique perspective and foresight into the necessity for a bilateral organization to facilitate the growing commerce between South Florida and Brazil. As a result and through his initiative, the BACCF was formed.
In the Chamber's earliest days, Tom was its first President and the face of the organization. His law office served as the BACCF's first office and corporate address. He subsequently served as Treasurer and was an active Board member, fully engaged in the Chamber's expansion and activities. Last year, in recognition of his services to the Chamber, Tom was presented with a life-time Honorary Membership.
Tom leaves a towering legacy for the BACCF. He will be remembered not just as the Chamber's founder, but as a visionary and driving force of the organization's mission over four decades. The BACCF is profoundly grateful for Mr. Skola's dedication and guidance which has made our organization one of the largest of its kind in the Southeast.
In collaboration with Tom's immediate family, the BACCF is establishing The Thomas J. Skola Fund, to be overseen by the Board of Directors of the Chamber and will focus on educational and community projects.
Donations may be made through the BACCF Educational Center, a 501(C)3 organization.
To contribute to Thomas J. Skola Memorial Fund:
or
Sunstate Bank of Florida
14095 South Dixie Highway
Miami, FL 33176
Phone: 305 256-0900
Routing & Transit: 067014592
Account: 20002382
Please make checks payable to Baccf Business Educational Center
P.O. Box 310038
Miami, FL 33231
Join us on April 17th at 11:00am EDT to remember the many accomplishments of the BACCF Founding Member, Loving Father, Grandfather, and Friend.
Click here
to register now
Articles:
###
É com imenso pesar que a Câmara de Comércio Brasil-Estados Unidos da Flórida - Brazilian-American Chamber of Commerce of Florida (BACCF) comunica o falecimento do nosso sócio fundador Thomas J. Skola.
O crescente estabelecimento do comércio brasileiro no sul da Flórida ganhou impulso no final dos anos 70 e rapidamente trouxe a necessidade de um fórum de intercâmbio de negócios entre empresas brasileiras e americanas. Por iniciativa de Thomas J. Skola, a BACCF foi fundada em 1981 e o seu escritório de advocacia tornou-se o primeiro endereço corporativo da Câmara. Tom foi o primeiro presidente da BACCF, atuou como tesoureiro e foi um membro ativo do Conselho. Em 2020, o Conselho da BACCF presenteou Tom com o título de Membro Honorário vitalício por seus serviços à organização.
Tom iniciou seus negócios internacionais e serviços de assessoria jurídica em 1970. Historicamente, ele focou suas atividades em negócios internacionais e transações bancárias, especialmente no Brasil e em outros países da América Latina. Ele trabalhou e morou no Brasil de 1977 a 1981 onde seus dois filhos nasceram. Ele participou de diversos empreendimentos comerciais envolvendo a Europa, América Central e Caribe. Tom foi um dos primeiros advogados a serem certificados em Direito Internacional pela Ordem dos Advogados da Flórida em 1999. Em 1996 Tom recebeu a Ordem do Rio Branco, a mais alta condecoração civil brasileira.
Sob a orientação imediata da família de Tom, a BACCF está estabelecendo o fundo Thomas J. Skola, que será supervisionado pelo Conselho Administrativo da Câmara e se concentrará em projetos educacionais e comunitários. As doações podem ser feitas através do Centro Educacional BACCF, uma organização 501(C)3.
Para contribuir:
Sunstate Bank of Florida
14095 South Dixie Highway
Miami, FL 33176
Phone: 305 256-0900
Routing & Transit: 067014592
Account: 10005189
Junte-se a nós no dia 17 de abril às 11:00am EDT para recordar as realizações do Sócio Fundador da BACCF, Pai Amoroso, Avô e Amigo. Clique aqui para se registar agora.
O Consulado Geral do Brasil e Presidente do BACCF 2021 prestam homenagem a Thomas Skola (
clique aqu
i
).